A popular VPN provider, NordVPN has gained a remarkable reputation within the VPN industry, boasting around 14 million users. And that is all despite the 2019 hack attack and controversies on its parent company.
While scouring through communities like Reddit, we are all bound to come across confusing reviews. Along with many people chirping in NordVPN's favor, a handful of people also claim to have bad experiences with it. So, what is the actual story going on, and why is NordVPN still a major brand?
After following a litany of mixed reviews, the best possible solution I came up with is to try and test the service myself and see what it has to offer. Thus, this review is a deep dive into NordVPN, providing a detailed insight into everything NordVPN offers.
Who owns NordVPN?
NordVPN was established in 2008 by Tefincom & Co., SA, a company from Panama. The country is one of the best regions to operate a VPN because it has some best privacy laws, like no compulsory data retention laws. Moreover, Panama is not part of the five eyes, nine eyes, and 14 eyes alliance, meaning it won't be sharing user data outside the jurisdiction of Panama.
But, people often confuse that Tefincom is not the parent company of NordVPN. Upon buying NordVPN, the payment goes to CloudVPN Inc., overlooked by the CEO of a data-harvesting service which is a bit concerning for many people.
Quick Overview
NordVPN has gained immense popularity in the VPN industry. It also comes up with some remarkable features, be it privacy, security, or streaming ability, which ensure that it always remains on the top. Here is a brief overview of everything that NordVPN offers:
| | |
| --- | --- |
| Features | Explanation |
| Encryption | Uses AES-256 bit encryption (standard) |
| VPN protocol | IKEv2/IPsec (Next Generation Encryption) OpenVPN (AES-256-GCM encryption with a 4096-bit DH key) NordLynx |
| Servers | 5200+ servers in 60 countries |
| P2P support | Dedicated servers with no bandwidth limit. |
| Device support | Six simultaneous connections on various devices such as Mac, Windows, iOS, Android, Linux |
| Browser Extensions | Firefox and Chrome |
| Kill Switch | Has an actively working kill switch protection |
| Jurisdiction | Panama-secure jurisdiction out of 5.9 and 14 eyes |
| Log policy | Strict log policy |
| Log audit | Has a log audit report |
| Discount | NordVPN Offers 69% Off sale currently – here is the link |
| Website | www.nordvpn.com |
With all these features, NordVPN emerges as one of the best VPNs in the VPN industry. To prove our words, the article will delve deep to explain to you how each of the features gives its best in maintaining users' digital privacy.
Security Features
A VPN leaking your sensitive data obliterates the very purpose of using a VPN in the first place. Thus it is crucial to test your VPN for leaks through various VPN leaks tests for Nord. While doing so, remember to check for IP Leak, DNS leak, and WebRTC leak since each VPN leak can damage the privacy and security you wish to meet.
– IP Leak Protection
The essential purpose of using a VPN is to hide the IP address, and NordVPN handles this part efficiently. The VPN wasn't leaking the actual IP address while an IP leak test was conducted.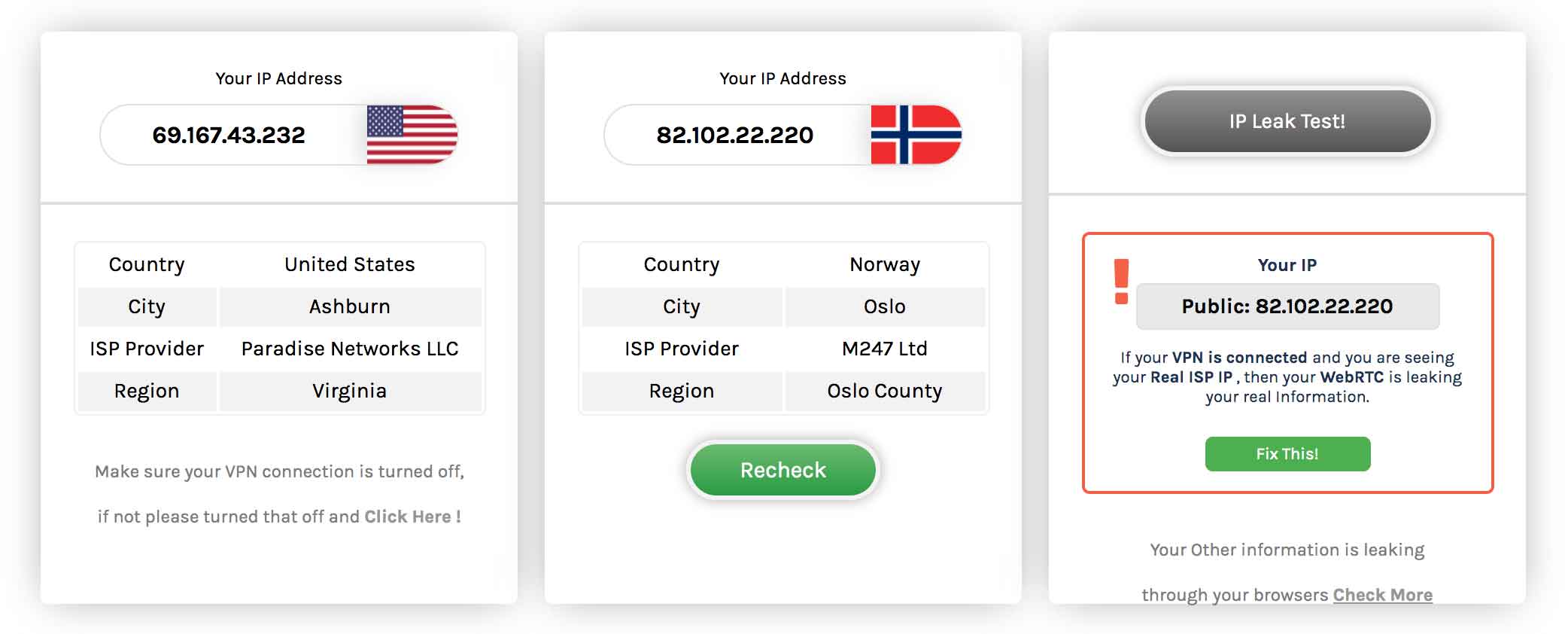 – Web RTC Leak Protection
WebRTC is a valuable feature that helps browsers maintain P2P connections while viewing audios and videos on the web. But WebRTC can leak your public and private IP addresses. NordVPN claims to offer WebRTC leak protection.
When undergoing the WebRTC leak test, NordVPN proves that it is patching all the loopholes in the browser to prevent browser leaks.
– DNS Leak Protection
DNS leak is another crucial; element to check for within a VPN since DNS leaks can disrupt your privacy. A VPN has to ensure DNS leak protection by encrypting your DNS, and NordVPN provides that security. You can also check your VPN through the DNS leak test that we used for testing NordVPN.
– Encryption Test
VPN encryption is crucial for maintaining data security and privacy. Thus, do check the encryption your VPN provides through tools like Wireshark. Using this software on NordVPN reveals the VPN protocols and the encryption algorithms to ensure user privacy.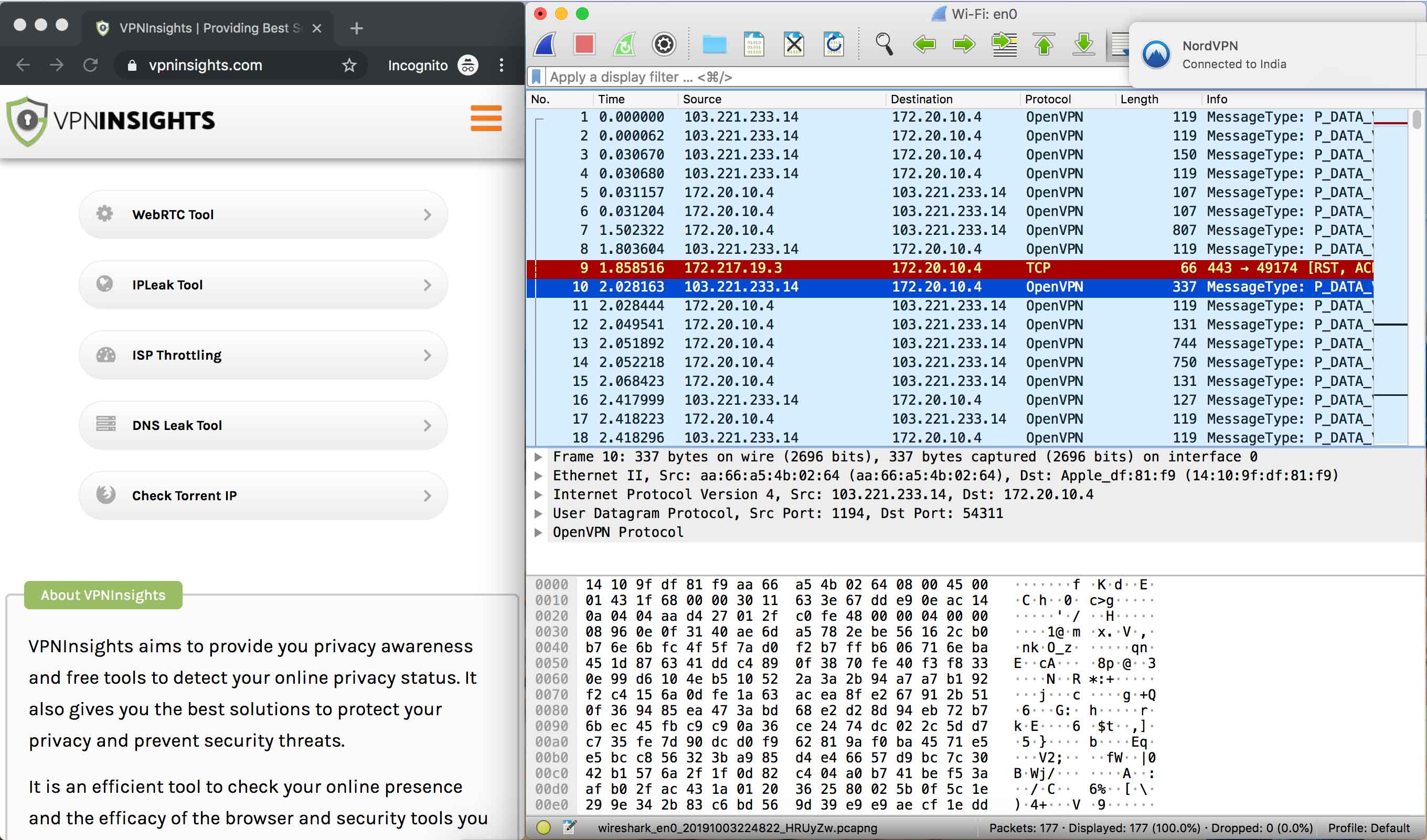 When we checked NordVPn through Wireshark, we found it using the best VPN protocols and secure encryption algorithms. By default, it protects your traffic through the OpenVPN protocol, which makes the VPN service reliable. Besides using OpenVPN protocol, NordVPN also uses IKEv2/IPSec. The NordLynx protocol built around the WireGuard protocol also promises better speed.
Supportive Features
NordVPN's popularity isn't limited to the top-notch level of privacy and security it provides to the users. It also has a variety of supportive features that helps to access unrestricted internet. Moreover, it allows users to enjoy streaming, torrenting, and even playing online games. NordVPN's supportive features include:
– Does NordVPN Works With Netflix?
NordVPN is among the best VPN when it comes to accessing Netflix. All credit goes to its SmartPlay feature that helps to access inaccessible or blocked content worldwide.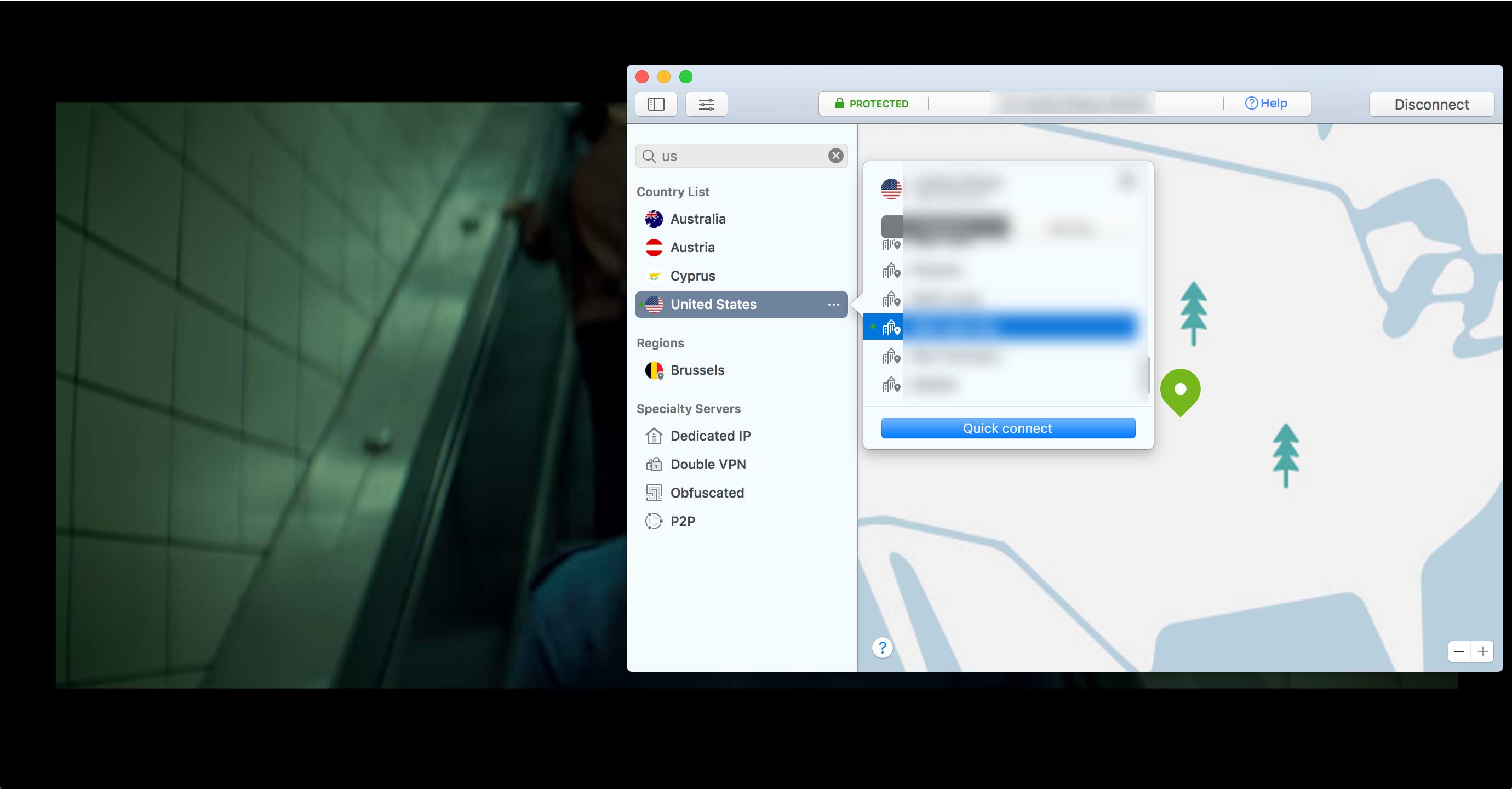 The VPN offers the SmartPlay feature that redirects the user requests by a server located in a region where access to blocked sites is allowed. The website thinks that the user is present in that location and thus grants them access. NordVPN can use this feature to access various Netflix libraries, all in HD quality.
Moreover, NordVPN's extensive server network and fast speed also make it easy to unblock Netflix without any issue. It works perfectly fine with American Netflix, and all this is because it is adding new servers to its list.
– Live Sport Streaming
NordVPN comes with an extensive server network and blazing fast speed that allows users to stream live sports anywhere. For instance, if live streaming of Olympics games is unavailable in your region. You can connect to the nearest NordVPN server and enjoy watching your favorite sports.
– Is Nordvpn Safe For Torrenting?
NordVPN also enables users to download torrents from BitTorrent, uTorrent, and Vuzu. The VPN has more than 4200 optimized P2P servers, unlimited bandwidth, fast connection speed, an active kill switch, and robust encryption. All these features ensure a safe and fast torrenting experience and make NordVPN an ideal VPN for torrenting.

Privacy Features
A VPN is a perfect tool to remain private over the internet. They come with a bundle of privacy-focused features that provide maximum online protection and protect users against snooping eyes. NordVPN also comes with several privacy features. An insight of them is as follow:
– Does Nordvpn Keep Logs?
NordVPN guarantees a strict no-log policy and refrains from keeping any connection or data logs. None of the users' activities are monitored, recorded, or passed to the third party.
But, the company does claim to store some data to maintain their service. The collected information includes:
Username and timestamp of the last session
Server load information
Connectivity information
It might sound alarming at first, but there's nothing to worry about. It's because the collected information has no links with your browsing activities or other sensitive information that can expose your true identity.
– Log Audit Report
The VPN is audited multiple times by recognized audit firms. NordVPN's log audit was to track the data and systems for any potential vulnerabilities or security breaches. The log audit report satisfied users and built their trust in the company.
NordVPN servers experienced a severe breach in 2018, but nothing came out of it. There was no evidence found that the hacker monitored or accessed the data traffic. But it was a severe problem as many users started doubting NordVPN's credibility. The service provider took this matter seriously and decided to audit every single server in its network.
The Switzerland-based audit firm PricewaterhouseCoopers (PWC) twice audited NordVPN. The first audit was done in 2018, while the second audit was in 2020. The auditors have full access to analyze the NordVPN's servers, inspect configurations, database, and interview employees. Both times, the auditors confirmed that the VPN does not store any connection or data logs, IP addresses, or other internet activity. As a whole, NordVPN is compliant with its privacy policy and no-log claims.
Furthermore, NordVPN also underwent app security audits. In 2019, NordVPN hired a cybersecurity consulting agency VerSprite to conduct penetration tests on their apps. During the test, VerSprite doesn't find any bugs or critical vulnerabilities.
NordVPN also introduced a warrant Canary in which they confirm that they've complete control over their infrastructure. Neither they have received any warning letters or gag orders from the legal authorities, nor they are disclosing user data to any third party.
– Double VPN
Double VPN is an advanced security feature offered by NordVPN. It redirects your data traffic via two VPN servers instead of one. It means that it encrypts your data twice and makes it difficult for hackers or cybercriminals to decipher.
The NordVPN's double VPN increases your online security because the UDP and TCP protocols are tough to distinguish.
The double VPN servers are located in different locations, so; the multihop VPN connection adds more protective layers between your real and virtual location. In this way, no one can trace you back.
Journalists, social and political activists, or anyone who wants to circumvent government restrictions can make good use of this feature. But, the security feature also comes with a drawback. As it doubles your encryption, it often results in slow speed.
– CyberSec
NordVPN also offers a solution for any potential threat or vulnerability that interrupts your browsing experience. CyberSec is an advanced technology that blocks dangerous websites and protects you against phishing and malware scams.
It also prevents intrusive pop-up ads from disturbing your online web browsing experience. Moreover, it safeguards the device from joining the botnet army. All this assures safe online web surfing.
– Onion over VPN
Experts suggest using a VPN compatible with Tor because it provides layered encryption that leaves your data vulnerable to hacking and spying.
Fortunately, NordVPN is among those VPN that supports Onion over VPN. At the moment, NordVPN offers over 25 optimized servers for Tor. Using NordVPN on the Tor browser hides your IP address and encrypts your data traffic with OpenVPN protocol before connecting to the onion network.
In this way, it protects you against anyone who's tracking your online activity. NordVPN's onion over VPN feature is widely prevalent among journalists, people who travel or live in oppressive regimes, and those who have sensitive data.
Using NordVPN over the Tor network means that your ISP cannot see that you're using the Tor browser. It also helps to bypass ISP throttling and optimize Tor connection speed.
– Split Tunneling
Another useful NordVPN feature is split-tunneling. It creates two separate tunnels for your data and allows you to choose which traffic should route via the VPN and route like your regular traffic. With this feature, gamers can enjoy their gaming experience on a VPN network or LAN without compromising their online security. Also, this feature is helpful while downloading torrents.
– Dedicated IP
NordVPN offers dedicated IP addresses in five countries: France, Germany, Netherlands, the UK, and the US. You can buy the NordVPN dedicated IP address for $70/per year.
NordVPN's dedicated IP encrypts your internet traffic and obscures your IP address and location, enhancing online security. Furthermore, this NordVPN feature secures your online payments, ensures secure communication to business servers, and protects against IP blocklists.
– Obfuscated Servers
You can bypass internet restrictions or censorship with NordVPN's obfuscated servers. These specialized servers offered by NordVPN disguises your traffic as regular traffic and allows it to bypass censorship.
These servers change your data packets and disable deep inspection packets. As a result, firewalls or tools that block the VPN traffic fail to detect that you are using a VPN, and it passes. NordVPN's obfuscated servers make it the best VPN for a highly restrictive environment like China.
– Multi-Factor Authentication
NordVPN's multi-factor authentication feature adds an extra layer of security and protection to your Nord account. It even uses USB security keys to secure your account. Besides this, you can use popular authenticator apps on your NordVPN account. For example, Authy, Google Authenticator, and Microsoft Authenticator.
– SOCKS5 Proxy
SOCKS5 proxies are lightweight proxies faster than a VPN and support traffic generated from any protocol like HTTP. With NordVPN, you can use some of its servers as SOCKS5 proxies as it helps during torrenting for better upload and download speed. Also, It protects the IP address from a vast swarm of peers and protects against exposure to malicious peers who might scan your IP address for open ports.
Using NordVPN's SOCKS5 proxies enhances your online security and bypasses internet restrictions. It prevents ISPs, third parties, and trackers from sneaking into your online behavior.
– NordLynx
NordLynx is an advanced technology built around the WireGuard protocol. It allows users to experience fast speed without compromising their privacy. The WireGuard protocol is a VPN tunneling protocol that is still under development.
It is fast, modern, and uses state-of-the-art cryptography that leaves behind the leading OpenVPN protocol. The protocol also promises fast speed but can't ensure complete privacy.
Other Services by NordVPN
NordVPN is a partner of the Nord Security program that is providing different cybersecurity solutions. In 2019, the VPN announced two new tools: NordPass- a password manager and NordLocker- a file encryption tool.
Both security-enhancing solutions offer remarkable services to the users and are recognized by top cybersecurity firms and websites. They offer outstanding features, some of which are discussed as follows.
– NordPass
NordVPN is now offering its password manager known as NordPass. It is a simple and easy-to-use tool used to manage and protect passwords. You can even use this tool to create and remember complex passwords for each account.
It has all those essential features that you expect from a password manager. It does everything from syncing and saving your passwords to auto-filling them and more. Some of its other features are as follows:
Identifies weak links to secure your accounts.
It uses XChaCha20 encryption for encrypting your data.
Adds a layer of security by enabling users to set up two-factor authentication and an OTP generator on all their accounts.
NordPass undergoes an independent third-party audit by Cure53.
The password manager stores all your passwords in the cloud to have a backup even if your device crashes.
All these features make NordPass a safe tool to use.
– NordLocker
NordLocker is a file encryption software that integrates with end-to-end encrypted cloud storage. It is a secure choice to store files on Google Drive and Dropbox and is available on macOS and Windows. Mentioned below are some of the fantastic features of NordLocker encryption software:
It shares encrypted files with other NordLocker users.
NordLocker syncs your file via the private cloud so, they are always a click away from you to access them.
It comes with a Share Locker feature that allows sharing lockers with any NordLockers users via email.
It automatically creates a backup of the cloud locker data.
NordLocker uses top-notch encryption algorithms and state-of-the-art ciphers, including Aragon2, ECC, and AES-256. They all encrypt the data and keep it secure and protected.
The software has both free and premium versions. The free plan offers less cloud storage along with limited features. But, it is never a bad idea to use a free and basic plan if you are a beginner.
Here is more information that you need to know about NordVPN.
– How Many UK Servers Does NordVPN have?
NordVPN offers an extensive server network that makes fast connection possible. It comprises more than 5000 servers in around 60 countries. Out of these servers, it has 432 servers in the United Kingdom.
– Is NordVPN legal?
Yes, NordVPN is legal to use in the majority of countries. Regions that have strict laws around freedom of speech, civil rights, internet privacy, and usage of anonymity tools ban or restrict the use of VPNs.
NordVPN is illegal to use in the following countries:
Belarus
China
Iraq
North Korea
Russia
Turkey
United Arab Emirates
If you are living in any of the countries mentioned above and try to use VPN to circumvent the government-imposed restrictions or attempt to access any blocked sites so, in turn, the ISP might block you.
What Servers Does NordVPN Have?
As mentioned earlier, NordVPN consists of 5000 plus servers that are the standard servers used for fast connection. Other than this, NordVPN also offers five types of servers. These include:
Dedicated P2P servers- These servers help in downloading torrents.
Obfuscated servers help bypass strict censorship like in China and make it easy to access the internet.
Onion over VPN servers- When you use the Tor browser, these servers bolster your security.
Double VPN servers- These servers send your VPN connection through two tunnels before reaching your destination. Although they add an extra layer of encryption, they slow down the connection speed in doing so.
Dedicated IP servers- If you want to use them, you must buy them at an additional price. The prime function of these servers is to allocate you a dedicated IP address and make you more anonymous and private over the web.
How Many Users Can Connect to NordVPN?
NordVPN is the best-trusted privacy tool that more than 12 billion people worldwide use. It is compatible with all major platforms and devices. It also offers dedicated apps for Android, Windows, macOS, iOS, and Linux. Also, you can download the NordVPN app on your mobile phone too. On a single NordVPN account, you can connect up to six devices simultaneously.
Is NordVPN Worth the Money?
Yes, based on our NordVPN review, it is worth the money for anyone who values online privacy and data. It provides excellent privacy and security and blazing fast speeds. Also, it offers military-grade encryption, downloads torrents, unblocks Netflix and other streaming platforms, which is worth it.
Does NordVPN Report Illegal Activity?
Unfortunately no. NordVPN adheres to a strict no-log policy which means it doesn't track or store traffic or connection logs. So, if anyone is indulging in some illegal stuff by using NordVPN, they don't know about it, and they can't report such activities.
Is NordVPN Free?
NordVPN is a premium VPN and doesn't offer any free plan to its users. But, it does provide a 30-days risk-free trial period along with a 30-day money-back guarantee.
Final Verdict
NordVPN is undoubtedly the best VPN to use at the moment. It lives up to all its claims of providing maximum security and privacy to the users. A strict no-log policy, unblocking Netflix, and compatibility with Tor make it a much better choice against its competitors.
So, what do you think about our NordVPN review insights? lets us know in the review section below.